BREAST ELEVATION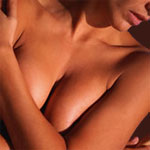 After some years, factors such as pregnancy, lactation, and gravity exert a negative effect on the aspect of your breasts. As skin loses its elasticity, the breasts change their shape, lose firmness, and begin to look saggy.
Mammary elevation surgery, or mastopexy, is a surgical procedure designed to augment and give new shape to sagging breasts, at least for some time (no surgical procedure can permanently delay the effects of gravity). Mastopexy can also reduce the size of the areoles, by removing the dark skin surrounding the areole.
If your breasts are small or if they have reduced their size after pregnancy, silicone implants can be inserted together with the mastopexy surgery, which will at the same time increase their size and firmness.