BREAST REDUCTION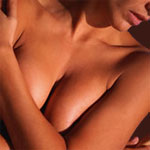 Breast reduction surgery is a procedure through which a part of the glandular and fat tissue of the breasts is removed so they can be remodeled to a harmonic shape in relation to the physical contexture of the woman.
This surgery is commonly requested by women suffering from disproportion in the size of their breasts. Generally they suffer from physical nuisances such as back pains and injuries in the skin of their shoulders caused by the weight of their voluminous breasts exerting weight on the suspenders of their bras.
In most of the cases, large or gigantic breasts tend to be saggy, and in the same procedure it is possible to correct this situation through elevation techniques, or mastopexy.